We have owned four varieties of Dachshunds; Stan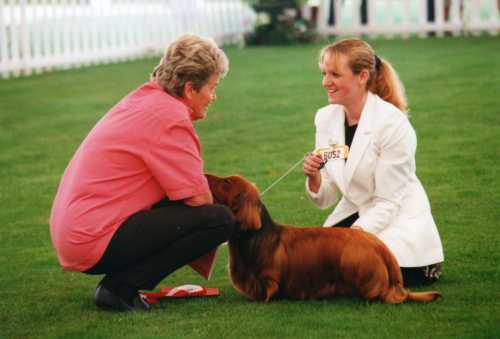 dard Longs (our main breed) and all three varieties of Miniature. We have bred/owned 70 British champions to date; 44 Standard Longs, 9 Miniature Longs, 13 Miniature Smooths, 2 Miniature Wires and 2 Basset Hounds. Our kennel has won over 400 CCs in the UK to date.
We have also bred Champions in America, Canada, Hawaii, Japan, Australia, New Zealand, Malta and South Africa.
We have been 'Our Dogs' Top Breeders in Long Haired Dachshunds in 2006, 2007, 2008, 2009, 2010, 2011 and 2013.
Dog World/Our Dogs Top Honours
2016
Top Stud Dog Longs - Ch Bronia Classic Legacy
Joint Top Puppy Longs - Bronia Atalanta
Top Puppy Min Longs - Metadale Coco Chanel Of Bronia
Top Brood Min Smooth - Ch Bronia Fabrizia
Runner up Top LH from 7 shows - Ch Bronia Lotario
2015
Top Dog Longs - Ch Bronia Lotario
2014
Top Breeder Min Smooths - Fran Mitchell
Top Stud Dog Longs - Ch Bronia Salvador Of Darsoms
Top Puppy Longs - Ch Bronia Miss Moppet
2013
Top Puppy Longs - Ch Bronia Mr Pepys
Top Stud Dog Longs - Ch Bronia Classic Legacy
Top Breeder Longs - Fran Mitchell
2012
Top Dog Longs - Ch Bronia Lotario
Top Puppy Longs - Bronia Larenzo
Top Stud Dog Longs - Ch Bronia Classic Legacy (AI)
2011
Top Breeder - Longs - Emily Mitchell
Top Dog Longs - Ch Bronia Lotario
Top Puppy Min Smooth - Bronia Fabrizia
Top Puppy Longs - Bronia Absolute
2010
Top Puppy Longs - Ch Bronia Lotario
Top Dog Longs - Ch Bronia Lotario
Top Breeder Longs - Fran Mitchell